Natureal Blue Grape Extract Capsules for Overall Wellness & Healthy Skin
Special Price
₹699.00
Regular Price
₹1,999.00
Your save:

₹1300

(65% OFF)
Natureal Blue Grape Extract 800 mg Capsules for Overall Wellness & Healthy Skin | Anti-Inflammtory & Anti-Oxidant - 60 Capsules (Pack of 1)
About This Item
✅ HEALTHY SKIN AND CARE- antioxidants found in blue grape revitalize your skin in an effective way Protects your skin from damages It lightens your skin complexion as well; shelf life (days): 547 ✅ 1 capsule twice a day 30 mins after breakfast and dinner.

✅ REDUCES INFLAMMATION- the anti-inflammatory property of blue grape extract works best in reducing body inflammation It combats with the harmful substances entering the body

✅ SUPPORTS HEALTHY DIGESTION- blue grape has dietary fiber and other powerful nutrients that improve the digestive capacity of the body It helps in regulating bowel movements and prevents indigestion

✅ ENHANCE IMMUNITY SYSTEM- natureal blue grape provides strengthening power to the immune system It helps to keep you healthy from inside and protects you from the harmful effects of oxidation

✅ PURE AND SAFE FORMULATION- natureal blue grape extract contains extract of pure blue grapes Does not have artificial ingredients; package contents: 1 bottle (60 capsules)

✅ This is a Vegetarian product
Product Description
Natureal Blue Grape Capsules are a rich source of antioxidants. It is an herbal marvel that helps fulfill the body nourishment. The product contains pure Blue Grapes extract that reduces inflammation and boosts the immunity power of the body. It is surely nature's treat for human health as it nurtures the body with its high fiber content and promotes digestive health. The pure blue grapes extract helps in deep cleansing of the body. The product is also appropriate for skin and hair care.
The Herbal Power of Blue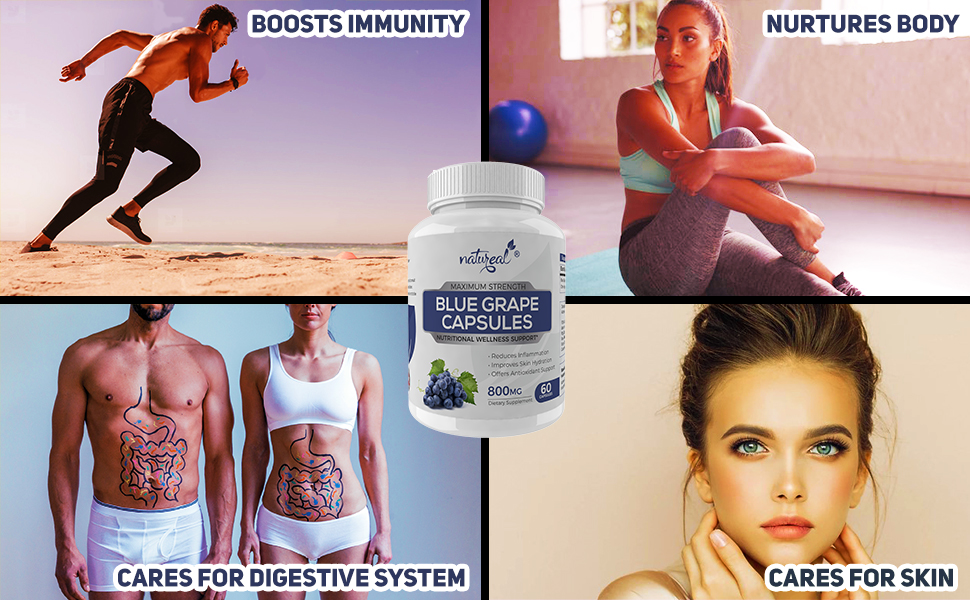 Nourishment That Does Wonders
Natureal Blue Grape Capsules act as a real dose of nourishment. It is loaded with antioxidants and works towards reducing fatigue and enhancing body strength. The high nourishment formula energizes the body and gives a strong feel like never before.